Congratulations on your CYANCyte 560!
Welcome to the Cypress Diagnostics family!
Find the 1, 2, 3 of the CYANCyte 560 here.
1. Register your analyzer
Activate the warranty of the instrument
Benefit of peace of mind, manufacturer support (performed through the distributor),notices of important updates and many more advantages.
2. Video instructions
Yes, plenty of videos!
Discover how to use, mantain, calibrate and much more!
Please enjoy our presentations to discover the principles of hematology, how to use, maintain and calibrate your CYANCyte 560.
Download our presentations:

Get the best user training?
3. Calibrate
Calibration is necessary because it influences the calculation factors.
Verifying and correcting these factors contributes to accurate measurements, which is fundamental for producing conclusive clinical test results
4. QC
Quality Controls in the range are an objective confirmation of the clinical validity of your results.
It is also a legal requirement and good laboratory practice.
Important notice
Service News: new software version 1.5.1828.0
We care and want our customers to have the best possible user experience.
We are therefore sharing with you the new 1.5.1828.0 software of the CYANCyte 560. This software upgrade includes multiple improvements and upgrades to the analyzer for changes in the reagent composition.
It is mandatory to update all CYANCyte 560 analyzers with this new software as soon as possible.
Contact us to receive your upgrade.
5. Assistance
Obtain quick and to-the-point advice on how to handle out of range blanks, calibrations or quality controls.
Select your issue, and let us guide you step by step to the solution.
CYANCyte product documentation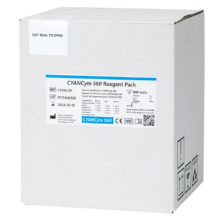 CYANCyte Reagent pack for 400 t
400 t | CY010-RP
Hematology Calibrator
2,5 mL | CY010-C01
Hematology Controls L/N/H
3 x 3 mL | CY010-C02